Insights
Cybersecurity information, thoughts and opinions you can actually use.
Blog
Providing insight, opinion and information to help define the problem, determine the solution and understand the cybersecurity landscape.
If you're familiar with a credit score, you already have a better understanding of cybersecurity risk ratings than you think. A credit score is a quick and easy way to tell lenders about your creditworthiness, providing a prediction of how likely you are to pay back a...
read more
Corporate News
What's going on with Anchor? These postings will give you a sense of what is happening with the organization, our team and give you a sense of our culture.
Anchor Technologies will participate in the RSA Conference this year! We will be in the expo at booth 5355. This booth and conference will serve as the official launch for the myCYPR™ cybersecurity ratings platform. myCYPR™ is the COMPLETE cybersecurity ratings...
read more
Cybersecurity is a fact of life. For any business, the necessity for security is wed to the budget available to fund a strategic cyber plan. Any assistance in obtaining services or products is a welcome support to doing business. The Cybersecurity Investment Incentive...
read more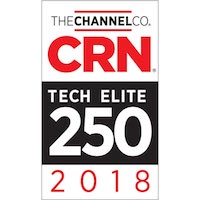 CRN's annual Tech Elite 250 list honors an exclusive group of North American IT solution providers that have earned the highest number of advanced technical certifications from leading IT vendors. Continued training and education are critical not only to provide...
read more
Upcoming Events
Anchor hosts numerous activities and events every year to grow the cybersecurity community, educate our clients and friends. Stay tuned here for what's coming up.
September 11, 2018 | 7:30 - 10:30 a.m. ​Johns Hopkins Carey Business School, 100 International Drive, Baltimore, MD 21202 Save the date; join Anchor and industry experts for a discussion around the future of technology and education. ​Tickets:...
read more
Improve Your Cybersecurity: Protect Your Members' Data July 19, 2018 | 2:00-3:00 pm | Session Three Online Seminar Hear Anchor Technologies President & CEO, Peter Dietrich, discuss  how to protect your members' information with effective and legally compliant data...
read more
August 23 | 3:00 - 5:30 p.m. | PSA Insurance, Hunt Valley, MD Join Anchor Technologies President & CEO, Peter Dietrich, the Cybersecurity Association of Maryland, Inc. (CAMI), the Regional Manufacturing Institute of Maryland (RMI) and PSA Insurance for an...
read more
Join Our Newsletter
True cybersecurity is a journey. Threats and vulnerabilities are ever evolving. Define your strategy, identify your risk, and manage that risk today — before its to late.